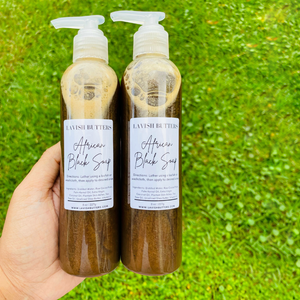 Our African Black soap makes an excellent face and body wash. African Black soap has antibacterial properties and is known to purify the skin, heal breakouts, and brighten your complexion. 
Size: 8oz
 Quantity: 1
Ingredients: Distilled Water, Raw Cocoa Pods, Palm Kernel Oil, Extra Virgin, Coconut Oil, Plantain Skin Ashes, TeaTree Oil, Unrefined Shea Butter, Vitamin E.
Directions: Lather using a loofah or washcloth, then apply to desired area.
5 Stars!
This is an amazing product! I use it daily on my face & it has cleared & brightened my skin so much!! I'm already a repeat customer!
The consistency & ingredients of the product allows it to penetrate & lift the dirt & oil from the face while brightening the skin!
Get this soap!!!
The African black soap really gets me squeaky clean and helped lighten my dark marks. I use it as my base wash. The lather is nice too. Get you some!!!
Luxury at its best
The scents are tantalizing. Creamy, soapy, best smelling dose of clean ever. I am in love…
Awesome Sauce
The African Black Soap (ABS) faded the dark spots on my face & has cleared, brightened & tightened the skin on my face as well. I'd been using it as body wash until I ran out of My Fenty Skin face wash & used this as a substitute. I now prefer the ABS over anything else for my face! I don't recommend use of it on lady parts because you don't want to throw off your ph balance but everywhere else is a GO! ❤️