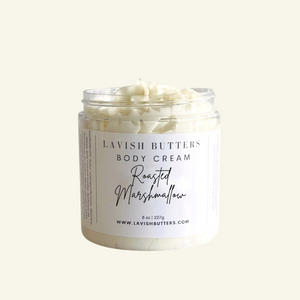 Our Body Creams are a thick creamy moisturizer that leaves your skin silky soft. Our body creams are different from our whipped body butters and they are water based instead of oil based. Our body creams are enriched with sunflower oil which is rich in vitamin E and known to help regenerate the skin.  
Scent Description: Roasted Marshmallow is a smoky sweet scent perfect for the cool weather. This cozy scent is reminiscent of a sweet marshmallow melting over a fireside.
Ingredients: Water, Isopropyl Myristate, Beeswax, Stearic Acid, Cetearyl Alcohol, Sunflower Oil, Polysorbate 60, Sodium Borate, Disodium EDTA, Propylparaben, Methylparaben, Diazolidinyl Urea, Propylene Glycol, Fragrance, Vitamin E, Mica.
Directions: Apply a small amount of body cream directly to your skin. Rub gently until the body cream is absorbed.