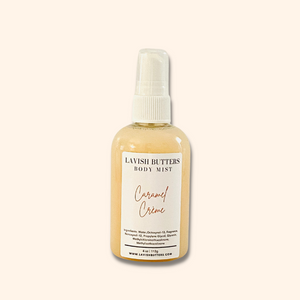 Our Luxury Body Mist was formulated to help to prolong the fragrance of our body products.  For best use, spray the mist on the skin after applying our body butter or body oil.  Not only will you be moisturized for an extended period, but you will also smell great.
Scent Description: Caramel Crème is reminiscent of a brown sugar latte with a caramel drizzle. Perfect for the gourmand lovers just in time for fall.
Size: 4 oz
Quantity: 1

Ingredients:  Water,Octoxynol-13, Fragrance, Nonoxynol-12, Propylene Glycol, Glycerin, Methylchloroisothiazolinone, Methylisothiazolinone
Carmel cream spray
I really like this spray. I spray it before bed. It smells more like maple syrup carmel. When you spray it..it smells of maple syrup but after it dies down...you smell vanilla . I enjoy it before bed.